ABOUT BEAU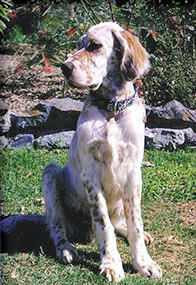 It seems like only yesterday (and not more than 20 years ago) I was driving down to Coolangatta airport to pick up Beau who was born in New South Wales. In my mind I can still see the dog crate on top of the Air Cargo vehicle making its way across the tarmac to the office where I was waiting. When Beau's crate was brought into the office, Beau had his back to me. I went over to him and looked down and I said 'Hello Beau'. Beau looked up at me and a very special connection was formed between us from that very first moment. His tail did not stop wagging.
It was as if Beau knew he was meant to be with me.
The dog crate was secured by a stainless steel horse clip which had a red, green and blue tartan tag. The Air Cargo man had to break the clip to open the dog crate. Beau could not wait to get out of the crate and be with me. The 2 Air Cargo men could not believe that this was the first time that Beau and I had met.
They said it was as if Beau and I had been together all our lives.
I still have this broken horse clip with the tartan tag. It is sitting on a prayer table with photos of Beau and Jessie and a white candle which I light every night to keep Beau safe and to bring him safely back home to us. Even though I have now lost hope of finding Beau I still light this white candle every night.
Because Beau had been travelling for several hours, by road and air, I decided to walk him around the airport terminal before driving home. We had a wonderful time together. Beau took everything in his stride.. the sound of airplanes, cars and trucks driving past, people rushing by. He loved me so much and trusted me unquestioningly from that very first moment.
Wherever we went people used to stop and look at us and smile. Beau had a special presence about him and he always loved me.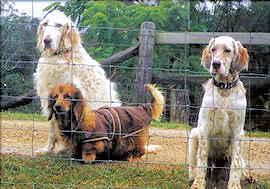 When we arrived home Jessie and Benmore greeted us and they welcomed Beau. Our English Setter, Bandit had died on 14 December 2000. During the course of Bandit's illness Jessie lost weight and when Bandit died, Benmore lost his eye sight virtually overnight.
Dogs grieve too !!
Jessie always slept on the bed with me. She was completely devoted to me and needed to be physically close to me all the time. I always ended up sleeping on the edge of the bed with Jessie 'glued' to my side.
The truth is that I needed Jessie even more than she needed me. Jessie was my rock when everything else was falling down around me. She was my 'Miss Princess'.
Benmore slept on an x-large doggie bed covered with a sheepskin rug beside my bed. He used to sleep on my bed but I worried he might fall off when he reached 16 years of age with his poor eyesight. I could lower my hand and touch him beside me and he knew where I was.
Beau decided his place was to sleep with his head on the pillow beside me.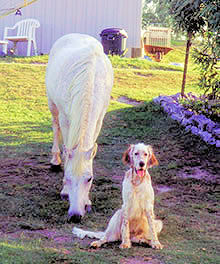 Beau also formed a strong connection with my mare Sparkie. He used to follow her everywhere. Sparkie's soul mate Misty Blue had died tragically not long before Beau came to live with us. For some reason little Beau lifted Sparkie's spirits, as he lifted mine. Normally Sparkie was not interested in dogs. In fact she hated dogs but as you can see from this photo, Sparkie and Beau were comfortable and happy being close to each other.
Muscles, the dog next door, spent more time with us than with his own family. Beau used to love his daily walks with Jessie and Muscles. Beau was fascinated with the tiny quail hiding in the bush by the side of the track and the wild birds, rabbits and wallabies we would see on our walks through the environmental park.
Beau invented the phrase 'in your face'. He had to be involved in everything I did and he could not get enough attention or love from me. Beau was very naughty but no matter what he did, he had such a way about him, all I could do was laugh.
I enrolled Beau in puppy kindy and then dog obedience classes. He was intelligent and learned quickly but his attention span was short and he was not tempted by food rewards. I enrolled Jessie in a dog obedience class as well even though she was 10 years old because I did not want her to feel 'left out'. Jessie enjoyed the class much more than Beau. Benmore was 16 years old. He failed dog obedience and he still objected strongly if I asked him to "sit" so Benmore was not enrolled but he still came with us to the classes.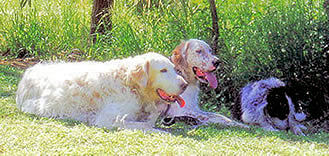 Beau loved his home here with all his family. When our Arabian horse, Khomet arrived on 29 March 2002, Beau became very close to Khomet too. Khomet was later diagnosed with serious back problems so I walked Khomet on foot rather than ride him. Beau came too.
Life was so much fun and so exciting for Beau.
In March 2003 when Beau was 2 years old I took him to a dog show to see whether or not he liked it. I had tried showing Beau a couple of times when he was younger but he made it clear to me that he did not enjoy it so I did not continue. I was advised by the 'experts' that I had left it too late for Beau to be trained for the show ring, in addition to my being a new handler with limited knowledge of grooming. Beau surprised them all .. in only a handful of shows Beau was well on his way to winning his Australian Championship title!! As well as his conformation, Beau's movement was amazing. He literally seemed to glide above the top of the ground when he moved. Never in my life have I seen a dog move like Beau. He did not require training to want to run beside me in a show ring, or anywhere else.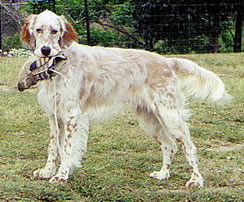 I regret very much I took up this 'hobby' because this may be the reason why Beau was stolen. This was the only change in our routine before Beau was stolen on 1 July 2003.
Each night before I go to sleep I kiss my dogs and horses and tell them how much I love them. Because the horses live outside I ask them to be careful during the night. In the morning I kiss them all and tell them again how much I love them. Whenever I have to leave them, I kiss them all and tell them to be careful until I get back home. The first thing I do when I arrive home is to kiss them all and tell them how much I love them, and again, I am so thankful they are safe.
This all changed for Beau on 1 July 2003.
Can you imagine how Beau has suffered .. his trauma, his grief, his fear, his confusion, his insecurity from being forcibly taken away from his mum, his family and his home where he was so very happy and so very loved ?? What had he done wrong ?? Where was his mum ?? Why had she not come to bring him back home ??
I wondered how I was going to survive 24 hours without finding Beau. Our life together was taken away from us. Beau suffered, all of Beau's family suffered and I suffered. The criminals who stole Beau have not been made accountable for what they have done to all of us.
"The bond with a dog is as lasting as the ties of this Earth can ever be." ~ Konrad Lorenz.