HOW YOU CAN HELP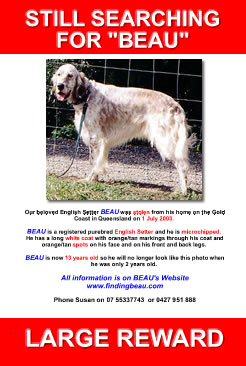 Beau was born on 1 February 2001 so tragically I have to accept that Beau is no longer alive.
I will keep persevering with completing my book 'Finding Beau' for Beau, for all the other stolen animals like Beau and for all my family who suffered from the stealing of Beau.
This is the flyer I sent throughout Australia and around the world desperately trying to find Beau.
Despite the odds I searched endlessly for many, many years desperately trying to find Beau. Because of the extent of my advertising word about my search for Beau travelled around the world .. to Iceland, Russia, Slovakia, China, Singapore, United Kingdom, Canada, America .. too many countries to name.
The extent of my advertising to try to find Beau also attracted significant media attention.
Despite all of this I did not receive one piece of valid information about Beau. He literally "vanished into thin air". This is the fate of all stolen dogs unless they are extremely lucky.
I will always carry this terrible ache in my heart for Beau because I could not find him. I will never know what happened to him.
As I stated on my Home page, I am leaving the majority of Beau's website unchanged. The following words remain unchanged .............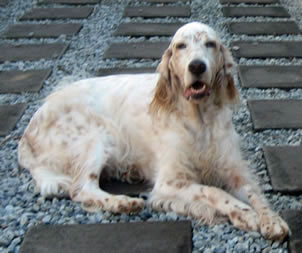 Beau's brother, Hammer was re-homed with me in November 2006.
This is a photo of Hammer in June 2010 when Hammer was 9 years old. Beau has more spots on his face than Hammer but this will give you some idea of what Beau might look like now.
It is highly unlikely Beau has been groomed regularly and depending on the level of abuse he has received, he could look quite different from Hammer. However, what cannot be taken away from an English Setter are their spots !!!
Please notice the spots on Hammer's front and back legs.
An English Setter is not a large dog. An English Setter is a medium sized dog similar in size to a Golden Retriever or a Labrador. An English Setter is nowhere near as large as a Great Dane which is a short-coated dog.
An English Setter does not have a cream coat or a red coat. The base colour of the coat of an English Setter is White.
An English Setter is a rare purebred dog in Australia now. This has caused me a great deal of difficulty because the majority of dog owners do not recognise the English Setter breed. In addition the majority of staff who work at council pounds, the RSPCA and private dog rescue organisations do not recognise the English Setter breed.
Most veterinarians and their staff do recognise the English Setter breed. The problem is that the large majority of veterinarians do not ensure that their client is the legal owner of the dog.
A description of Beau: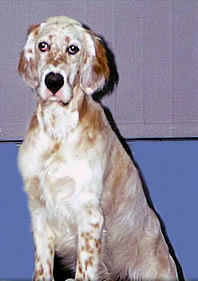 Beau is a registered purebred English Setter and he is now 15 years old.
Beau is an Orange Belton in colour, which means he has orange/tan markings through his White coat and tail, orange/tan markings and spots on his face, and orange/tan spots on his legs.
The base colour of Beau's coat is WHITE.
Beau has a distinctive looking face. He has a lot of orange/tan colouring and spots on his face which make him look as if he has freckles; and he has a sad, goofy expression.
Beau's ears are long and have a lot of orange colouring. Beau has a small pink mark in the bottom corner of one of his eyes where the pigmentation is missing.
Beau has a heart-shaped nose. This photo of Beau when he was 6 months old shows his heart-shaped nose.
Beau was not desexed when he was stolen from our home.
Since 1 July 2003 Beau should not have been desexed because I am Beau's legal owner and I have not given one veterinarian in Australia permission to treat Beau.
Legal ownership DOES NOT CHANGE when a dog (all companion animals) is stolen.
Beau is microchipped. I cannot rely on this to find Beau because legal ownership is ignored unless the stolen dog ends up as a stray. The crime of stealing a dog is also ignored. (Refer the The Legal Status of a Dog and the Stolen Dogs web pages).
Whatever course you decide upon, there is always someone to tell you that you are wrong. There are always difficulties arising which tempt you to believe that your critics are right. To map out a course of action and follow it to an end requires courage. ~ Ralph Waldo Emerson.