WHAT HAPPENED TO BEAU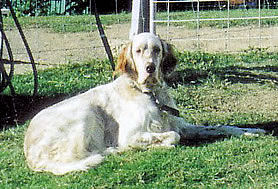 In a few words, what happened to Beau is .. Beau was stolen on 1 July 2003.
Too many so-called "dog lovers" choose to ignore the fate of stolen dogs. I was the target of bullying and abuse for many years because I would not stop searching for Beau. The lives of Beau's family at home with me were even threatened.
The following is some information I have written on this web page for a long time now. It is brief. My book 'Finding Beau' will provide a great deal more information.
Our home is set well back from the roadway and the verandah is hidden from view by tall Jacaranda trees which line the driveway. The front gate to the property is locked. The entire boundary of the property is fenced with hinge-joint wire fencing which the fencing contractor told me was 'wild pig proof' and this boundary fence line is electrified. The house area is also fenced with hinge-joint wire fencing.
Beau "vanished" from a 2.5 metre high verandah which was secured by a gate at the top of the stairs during the day between the hours of 8.00 am and 2.00 pm on Tuesday, 1 July 2003 while I was away at work. The latch was on the outside of the gate.
Beau had stayed on this verandah with Jessie and Benmore since he was a 4 months old puppy while I was away at work.
Beau had never attempted to try to climb over the verandah gate. In the 23 years we have lived here none of my 8 English Setters have ever attempted to climb over the verandah gate.
I am certain if Beau was interested in or capable of climbing over the verandah gate, he would have done this long before 1 July 2003.
My dogs always knew when I was coming home long before I entered the driveway leading to our home. When I drove my car onto our property I could always see my dogs at the verandah railing furiously wagging their tails. This is a photo of Beau at the screen door on the verandah after I had arrived home from work. This photo shows Beau's tail wagging furiously and the torn screen door. Beau had ripped this screen apart because he was so desperate to be with me again. Beau suffered separation anxiety when I had to leave him to go to work even though he was with Jessie and Benmore.
Beau was inseparable from me. Beau loved all of his family very much. As well as Jessie and Benmore, Beau loved to be with our horses, Sparkie and Khomet. He loved his home.
Beau and Jessie were always devoted to each other, even more so after Benmore died on 26 November 2002 only 6 months before Beau was stolen. English Setters know their own breed.
The truth is that Beau would never have willingly left Jessie, his family, his home or me.
I knew something was terribly wrong because when I arrived home from work on that terrible day on 1 July 2003 and drove onto our property I could not see Jessie or Beau on the verandah. When I walked inside the house I could not see Beau at the torn sliding door. Then when I walked onto the verandah I saw Jessie. She was sitting on her bed and she looked terrified. Jessie had not even got up to greet me. She had never behaved this way. I went over to Jessie and I held her and comforted her. Jessie looked at me and she gulped and then she put her paw over my arm.
When I asked Jessie where Beau was, she kept gulping and she kept putting her paw over my arm. Jessie was traumatised.
The next thing I noticed was that there was a chair moved right away from the table on the verandah and it was sitting against the wall. The 4 chairs were flush against the table when I went to work.
Neither Jessie nor Beau could move this chair so far away.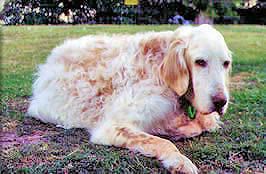 This is a photo of Jessie taken after Beau was stolen. She was never the same after this terrible day. Jessie went into a depressive state. Jessie had never coped with being left on her own. I was so fearful of losing Jessie as well. It was very fortunate for Jessie and I that young Hobson arrived.
It tore my heart apart seeing Jessie like this, worrying about Beau and also worrying about young Hobson.
No matter what I did, how far I travelled, how much money I spent, not one person had seen Beau !!!!
When Beau was stolen he was a beautiful, elegant, attractive looking dog in prime physical condition. He was groomed for the show ring. It was obvious to any human being that Beau was very loved and very well cared for. No human being could mistake this.
Most of the neighbours in the street where I live own dogs. Most of these dogs wander the streets and the surrounding area. The dog next door was frightened of storms and took off regularly. She was always found and returned back to her home. None of these dogs had ever "vanished into thin air" like Beau.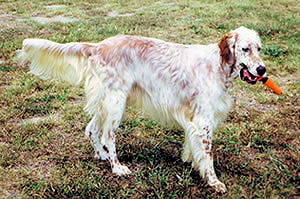 The area where we live is quiet and is not near a main road. The properties in the area range from 2 acres to 15 acres. The surrounding bushland is an environmental park. I can walk on foot through this environmental park and reach Eagle Heights which is a popular Gold Coast tourist destination in less than 2 hours. There are fire trails throughout the bush which are more than a car length in width. This area was popular with 4WD's until the National Parks & Wildlife closed off access to motor vehicles. The area is still popular with horse riders, bush walkers and bike riders.
We do not live in a rural area. We live on the Gold Coast.
I was strongly advised not to mention that Beau was stolen in advertising in case he may be harmed by the criminals who had stolen him. Most newspapers will not allow you to use the word 'stolen' in advertising anyway. I followed this advice.
This did not mean that I did not believe in my heart that Beau had been stolen on this terrible day on 1 July 2003.
I am now certain the human beings who stole Beau never had any intention of returning Beau to me.
This would explain why there have been no sightings of Beau despite my extensive advertising throughout Australia and the extraordinary media attention my search for Beau has received (refer the Media Stories web page).
WILL BEAU REMEMBER ME ??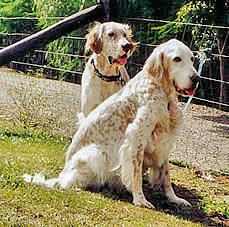 People keep asking me this question. I'll give you an example that happened on 8 March 2006. Hobson and I went to the dog park at Southport. Out of the blue, I saw a Border Collie running in my direction from the other side of the park. This Border Collie ran away from his family towards me, and I was a long distance away. I was unsure at first whether this dog was coming to me.
This Border Collie came directly to me, jumped all over me and he kissed me. It was Zeeko !!! Zeeko went to puppy kindy with Beau in 2001. I had not seen Zeeko for 5 years. Zeeko's mum said to me: 'Zeeko still remembers you after all this time'.
If Zeeko remembers me after 5 years, don't you think Beau will remember me. I have a much stronger bond with Beau ... I am Beau's mum.
In case you did not know, telepathic communication between a human being and a dog has been scientifically proven. A dog was the first animal domesticated by human beings more than 100,000 years ago.
Love has no boundaries.
Beau was inseparable from me whatever I was doing, wherever I was going. Even when I took our Arabian horse, Khomet for a walk, Beau came too.
Beau is my friend, my defender, my dog. I am his life, his love, his leader.
Beau will be faithful to me to the last beat of his heart.