MY SEARCH FOR BEAU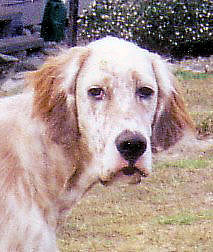 This is a photo of Beau when he was young, approximately 12 months old. You might notice his heart-shaped nose and the sweetness in his face.
Beau came to me in 2001. I had become seriously ill and was not recovering. My doctor was genuinely concerned and strongly recommended that I buy an English Setter puppy to help me. She said I needed to buy a puppy and the breed needed to be one that meant a great deal to me. She believed an English Setter puppy would be the best choice.
English Setter puppies are not readily available but I made a couple of enquiries and there happened to be one puppy that was for sale in New South Wales. The rest is history .. this puppy was Beau.
For some reason little Beau seemed to know he was meant to come to me and he did help me.
If Beau had died from natural causes on 1 July 2003 this would have devastated me but I would have known where Beau was and I would have known that he was safe and no one could harm him. I have shared my life with animals since I was born. Never in my long life has one of my dogs been stolen from me. I cannot describe in words how this feels. After Beau was stolen my doctor regretted that she had talked me into buying a puppy but her intention was only to try to help me and neither of us could predict what was going to happen to Beau.
There are many reasons I continued to search for Beau, despite the odds of my finding him. I feel anger in my heart right now because not only was Beau's life destroyed, the lives of my family and my life have been irreversibly damaged in some way. The criminals who are responsible for stealing Beau have never been made accountable. Because I dared to go against "the norm" I have been subjected to an enormous amount of bullying and abuse primarily from so-called "dog lovers".
As I stated on my Home web page I am leaving the majority of Beau's website unchanged .............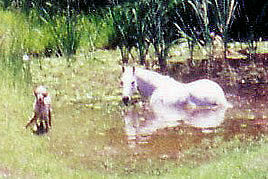 When I came home from work on 1 July 2003 I knew something terrible had happened to Beau. I knew Beau would never willingly leave his family and his home. I knew Beau would never willingly leave me. I could not sit back and do nothing and allow a criminal to trespass into our home, traumatise my family and myself, and steal and destroy Beau.
It did not take me long to realise that there was no support system in place in Australia to help me find Beau.
I knew TIME was critical.
I thought very seriously about what to do and I decided that if I did not spend a lot of money on advertising to try to reach as many people as quickly as I could, I had no chance of ever seeing Beau again. Fortunately I was able to re-finance my mortgage so that I had the money available for a Large Reward and to fund my search for Beau.
I borrow money to keep my motor vehicle on the road. Beau and each one of my animal children is worth much more to me than my motor vehicle or any material possession I own.
I was prepared to offer a substantial Reward for the safe return of Beau because this was no different to me than paying significant veterinary costs. If one of my dogs or one of my horses required expensive veterinary treatment I always borrowed the money. In order to financially manage all areas of my life because I had to survive on a single wage I set myself a strict budget and I virtually lived on the poverty line myself. I was willing to do this for Beau and all my animal children without hesitation.
I was panic-stricken because I knew Beau would be extremely frightened and confused. He suffered separation anxiety when I went to work even though he was with Benmore and Jessie. Beau would wonder where was his mum?? I was extremely worried that whoever had Beau might harm him. Jessie was suffering severe depression. I was worried about her too. I was desperate to find Beau as quickly as I could. I made the best decisions I could at the time.
I was constantly talked out of stating a Reward amount by organisations involved in locating "missing" dogs and classified newspaper advertising staff for a number of reasons, one of which was that I would attract hoax callers. This happened anyway and I was in fact plagued by hoax callers because of the extent of my advertising to try to find Beau. in hindsight I do not believe it would have mattered what was shown or not shown in any advertisement. I believe the criminals who stole Beau had no intention of ever returning him to me.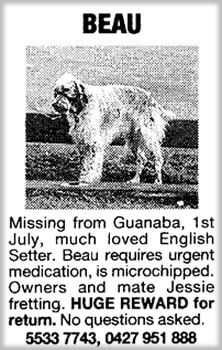 This is the first advertisement I placed for Beau on 2 July 2003 the day after Beau was stolen.
I believe the wording of this advertisement shows how desperate I was to find Beau and how much Beau was loved. It states: "HUGE REWARD for return. No questions asked".
You would think people would realise by "HUGE" I meant I would pay a great deal but "HUGE" means different things to different people. I regretted not stating a Reward amount but in hindsight this probably would not have changed the outcome.
I literally flooded the Gold Coast and surrounding areas with advertising as well as displaying Beau's flyers and hammering up Beau's posters everywhere I went. I travelled day and night searching for Beau and spreading the word about the plight of Beau. One day I counted the number of kilometres I had travelled and it was 832.
Within approximately 6 weeks after Beau was stolen, without any sightings of Beau despite all my advertising and the help of a local radio station and a Gold Coast City Council newsletter, I believed Beau had been taken away from the local area. So, I started advertising Australia wide. My advertising resulted in a great deal of media attention.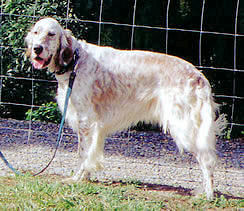 I believed it was likely that Beau would be taken to a veterinary practice at some point in time so I wrote to every veterinary practice in Australia. It was a huge task and took me months to complete and cost me thousands of dollars in postage and colour flyers.
Despite my desperate and genuine pleas for help I received a 10% response from the veterinary practices. I received the same response from council dog pounds, RSPCA dog shelters and private dog rescue organisations.
I was devastated.
Beau is microchipped. Beau is a rare purebred dog and a distinctive looking dog i.e. an English Setter. The Police believed Beau had been stolen and issued me with a Police Crime Report Number. It is a criminal offence to steal a dog. I will always remain the legal owner of Beau. I am a responsible dog owner and a responsible member of the community.
Dealing with the trauma of what had happened to Beau was more than difficult enough. I did not expect this apathy.
I pleaded with these organisations to keep in touch with me. I believed a brief acknowledgement of my letters and emails was not a lot for me to expect. More importantly, I believed these organisations should not have thrown out Beau's information including his microchip number and his Police crime report number.
I was ignored and Beau was ignored.
"The worst sin toward our fellow creatures is not to hate them, but to be indifferent to them. That is the essence of inhumanity." ~ George Bernard Shaw.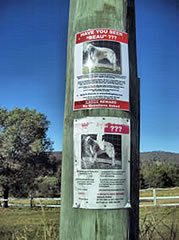 Unfortunately more than 12 years later, despite spending tens of thousands of dollars; distributing hundreds of thousands of flyers throughout Australia; hammering up thousands of laminated posters; and travelling tens of thousands of kilometres day and night, I have still not found Beau.
I advertised in major metropolitan and rural newspapers, in regional newspapers and in Canine Control Council Dog magazines throughout Australia continuously from 1 July 2003.
I contacted every council dog pound, RSPCA dog shelter, veterinary practice and the majority of private dog rescue organisations in every State of Australia continuously from 1 July 2003.
Those council pounds, RSPCA dog shelters, veterinary practices, and private dog rescue organisations for which I was able to locate an email address, I emailed twice a year continuously from 1 July 2003.
Because of the extent of my advertising dog breeding organisations in every State of Australia had been alerted about the stealing of Beau within a couple of months after 1 July 2003. I continued to contact breeders, breed clubs, dog trainers, dog training clubs, dog groomers, pet shops .. every type of dog business .. Australia wide.
I contacted every primary and secondary school in Queensland and the majority in New South Wales; every water carter in Queensland and New South Wales; and every Pet Friendly accommodation owner in Australia.
I designed a 16 page website and spent hours on the internet each day trying to increase my website visitors, listing Beau on pet internet sites and emailing organisations throughout Australia to spread the word about Beau.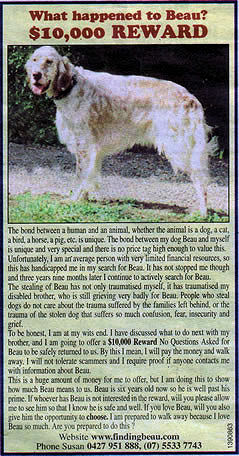 At the start of 2007, I was at my wits end what to do next. Then a lady who had seen Beau's posters at Redland Bay in Brisbane phoned me. Her dog was stolen in 2006 and she was one of the fortunate ones because her dog was returned after she offered a Reward amount in advertising. The Police recommended she do this.
Because this was a Police recommendation I decided to advertise a Reward amount in a major metropolitan and a major rural newspaper in every State of Australia.
I offered a $10,000 Reward for the safe return of Beau.
I hoped this large Reward would prompt more people to help me find Beau.
I wish I could have offered more. This was the most I could borrow after all the money I had spent on my search for Beau since 1 July 2003.
To give you an idea of advertising costs, this is an advertisement I placed in the Dogs Classified section of Queensland Country Life on 5 April 2007. The cost was $660. It would have been even more expensive if I had placed the advertisement in the general section of the newspaper.
Unfortunately offering the $10,000 Reward brought me no news of Beau and I was plagued by nuisance and obscene phone calls and emails. Again I received an 'emotional battering'.
I had to withdraw the $10,000 Reward on 16 February 2008 because my borrowing ability had run out.
BEAU SUPPORTERS
Many wonderful people have joined me in my search for Beau and some of these people do not even own a dog. The kindness they have shown me is extraordinary. These people are young and old, male and female, come from all walks of life, and live all around the world. What we have in common is our sense of humanity and our love and respect for all life. I call these wonderful people my 'Beau supporters'.
Many 'Beau supporters' have distributed flyers and hammered up posters for me, listed Beau on their personal websites, visited their local veterinary practices and dog pounds, displayed Beau's flyer on their car windows, etc. I know many kind, caring human beings have helped me without letting me know.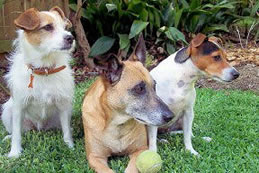 This photo shows Holly, Brandy and Millie. Their mum's name is Marion. Even though Marion had health problems she certainly went 'the extra mile' for Beau and myself. During her holidays away from Sydney she used to distribute Beau's flyers and hammer up his posters. Her support and faith in my finding Beau never wavered.
Marion typifies a 'Beau supporter'. Marion represents the best in human nature. This is not because Marion is a dog owner. This is because of the human being she is.
My 'Beau supporters' matter to me. They represent all that is good and kind in this world. My 'Beau supporters' are trying to do something in their own small way to help the plight of animals in this world and to save the natural environment. I believe if you are incapable of respecting animals and nature, you are incapable of respecting human beings. Our species are inextricably connected with each other. One species cannot survive without the other.
'On the other side of the coin' I have been criticised by many human beings for not allowing Beau to remain where he was. These so-called "dog lovers" considered themselves to be psychic and knew exactly where Beau was and who he was with. They completely ignored the truth about the fate of stolen dogs. A few stolen dogs are "lucky" to escape and are found. These dogs are usually in a deplorable state of health. The apathy continues because it is rarely acknowledged that these dogs were stolen. How was I supposed to make an informed decision about Beau's safety when no one ever came forward with any valid information about Beau?
An English Setter is an intensely friendly breed of dog. Relationships between dogs including English Setters and human beings vary signficantly. A dog who bonds deeply with a human being will never forget this person. A dog understands much more than some human beings like to admit.
Until this year I continued to hope that Beau would find his way to a decent human being who would do the right thing and either help him come back home to his family and to me or let me know what had happened to Beau. Tragically I have to accept that Beau is no longer alive. My focus will now be on publishing my book 'Finding Beau' for Beau, for all the stolen animals like Beau and for all my family who suffered from the stealing of Beau.
"The meaning of good and bad, of better and worse, is simply helping or hurting." ~ Ralph Waldo Emerson.