CONTACT ME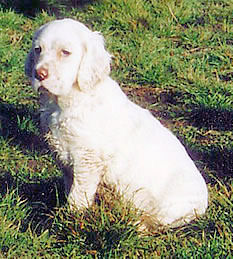 Before I give you my contact details I would like to tell you about this photo. This is my English Setter whose name is Hobson when he was 6 weeks old. Hobson is the great-grandson of Bandit. I rescued Bandit from the Gold Coast council dog pound in 1995. The circumstances of how I found Bandit were extraordinary. After Bandit passed away on 14 December 2000 I became good friends with the lady who bred Bandit's father whose name was William.
Hobson was born 3 weeks before Beau was stolen. I was not planning on buying a puppy at the time. When Jean phoned me to say a litter of English Setter puppies was being born soon, this was a complete surprise. Because Hobson was related to Bandit I knew in my heart that a puppy was meant to come to us.
At the time Jessie was almost 13 years old. Jessie wanted to play with Beau but she was born with severe hip displaysia. She was not physically able to run very far and Beau accidentally knocked Jessie over because he was young and strong. At the time I thought Hobson would give Jessie a break and be a young brother for Beau with whom to share his adventures.
I purchased Hobson sight unseen at 3 days old because intuitively I felt in my heart Hobson was meant to come to us. I knew Hobson's breeder was trustworthy and I have always loved the "English" type of English Setter. I did not realise how important Hobson was going to be for Jessie and myself.
I said to Jessie: "You and I will grow old together and we will watch over our young boys as they grow up."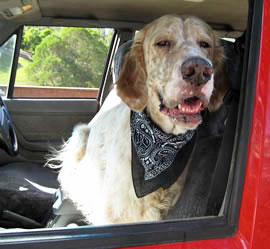 Unfortunately, this did not happen. Our life became a nightmare instead.
It was wise of me to trust my intuition because I really do not know how Jessie and I would have coped without the arrival of young Hobson.
Hobson travelled up to us all the way from Tasmania in a Dogtainers cardboard box when he was only 8 weeks old. I was criticised by one woman who visited my website about this. (Human beings are quick to judge even though they know nothing about the particular circumstances). Hobson's breeder would not normally transport a puppy of this age but she did this because Hobson was so healthy and to help Jessie and myself because of our great distress for Beau.
Soon after his arrival Hobson decided his place in the car was sitting on the console beside his mum and this is where he sat for the remainder of his life. Even though he was so young Hobson sensed my distress and Jessie's distress. Hobson has always been a wise old soul.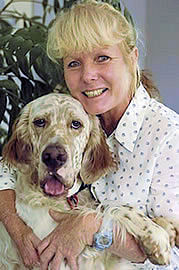 Many years ago Hobson and I were coming back from the garbage dump and the tears started to stream down my face because I was thinking about Beau. I said to Hobson: "I carry a deep sadness in my heart for Beau and no matter how hard I try for you because I love you so very much, this terrible pain in my heart for Beau just won't go away".
Hobson looked at me and then he held his head very low against his chest for a little while. Then he turned and pressed his head against my heart. I put my arm around Hobson and I cried and I cried, not for Beau, for my beautiful boy, Hobson because he has always understood.
Many human beings have assumed incorrectly that I loved Beau more than my other animal children. How could they even consider they could know? The trauma of having your dog stolen from you is indescribable if your dog means a great deal to you. Everyone involved suffers. Life can no longer be "normal". This is a photo of Hobson with me when he was 2 years old. I loved him with all my heart, and he loved me. My unconditonal love for Hobson has nothing to do with my unconditonal love for Beau or any of my animal children.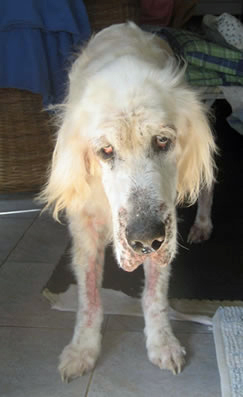 I have never stopped loving Beau and I never will. I will always feel this pain in my heart because no matter what I tried to do, I could not find Beau. I developed a stronger connection with Hobson because he shared my life with me for 12 1/2 years. Beau was taken away from me after only 2 years. As well as the trauma I suffered when Beau was taken I have suffered many major losses and a great deal of trauma since 1 July 2003. Hobson was always there by my side keeping me strong. Hobson and I have been through some very tough times together since 5 August 2003 the day he arrived to share my life.
It is with huge sadness I write that on 28 December 2015 Hobson passed away in my arms at The University of Queensland veterinary hospital in Gatton. We had been visiting this veterinary hospital on a regular basis since 14 May 2014. Hobson had developed serious health problems from the misdiagnoses of several Gold Coast vets. My beautiful boy possessed an extraordinary will to keep living because he knew how much he was loved by me. Despite his health problems he was always such a happy boy. Hobson defied the odds and continued to make amazing progress. Tragically, on 9 October 2015 Hobson was diagnosed with Hemangiosarcoma. Despite this, he continued to fight bravely and even though surgery was not an option he fought with all his might for another 11 weeks. I did not leave his side.
This is a photo of Hobson on 26 October 2015. He had been suffering from Demodectic Mange and orthopaedic problems for years without being diagnosed despite the number of vets and natural therapists I paid to help him. The University of Queensland veterinary staff saved Hobson's life. They have been wonderful and they could not help but fall in love with my precious English Setter boy, Hobson. His coat had recovered amazingly well but he still had some areas e.g. on his front legs that had not completely healed. When Hobson was diagnosed with Hemangiosarcoma he was unable to stand up or walk without my assistance. Therefore he was unable to eat, drink or go to the toilet without my assistance. Despite the aggressiveness and type of this cancer Hobson had improved to be able to stand up and walk a little way on his own though he still needed me to be with him to ensure he did not fall. Hobson was at very high risk of bleeding to death. Hobson was on his way out to the verandah to go to the toilet in this photo. He was actually showing signs of improvement on 26 October 2015 despite his diagnosis. This is why this photo is so special to me. Unfortunately Hobson suffered two internal bleeds on 4 December 2015 and after this, his health slowly deteriorated because the cancer had spread further.
Hobson was the most extraordinary dog I have ever owned. I honestly do not know how I could have survived the last 12 1/2 years of my life without my Beautiful Boy, Hobson.
All of Beau's family have died, and Beau has also died. None of us were given the chance to see our Beautiful Beau again. My time with Hobson when he was a puppy was spoiled because Beau was stolen from us. Jessie's time with Hobson when he first arrived was also spoiled because she was traumatised from what happened the day Beau was stolen. Beau would have suffered incredibly after he was stolen from us. I will keep persevering with completing the writing of my book 'Finding Beau' for Beau, for all the other stolen animals like Beau, and for all of my family who suffered from the stealing of Beau.
Human beings who steal dogs (all animals) who are beloved family members do not care about the trauma and grief they cause and they do not care they are committing a criminal offence because they know they can get away with it. It is long overdue that something is not being done to stop this criminal and cruel behaviour.
My contact details are :
Landline phone number is 07-55337743
Mobile phone number is 0427 951 888
Or email me on susan@findingbeau.com